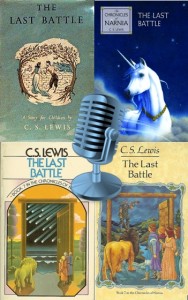 While this is the ninth episode of  NarniaCast, it is the seventh and final show on a mini-series looking at the world of Narnia created by C.S. Lewis.
(PLAY button is below Show Notes, or click image on right to listen)
We're doing just one show for each Narnia book. Co-hosts for the shows are William O'Flaherty, Paul Martin and Dr. Crystal Hurd. 
Kevin Belmonte discusses The Magician's in this program. Feel free to leave questions or comments below. 
Each show is divided into the following segments:
The Story Behind the Story
Short Summary of the Book
Favorite Characters Discussion
Unique Aspects of this Story
General Discussion (a variety of questions related to the book)
SHOW NOTES/LINKS:

NarniaCast Ep 9 – The Last Battle (guest: Kevin Belmonte)
[ 1:08:00 ]
Play Now
|
Play in Popup
|
Download